Taking advantage of the day to go fishing. 🎣 
Date: June 20, 2019
There were a couple dozen anglers who didn't pay attention to the heat advisory and enjoyed the breezy day. They did this by taking advantage of the day to go fishing. 🎣 They were pleasantly surprised by the awesome selection of fish caught today!
Capt Jack went fishing with his cousin Louie, wife April and their son Matthew. They caught 20 Redfish, 2 Sheepshead, and a Bass, all were caught in the Lake Batola area.
Mr. Gene from Hallettsville, Texas, lodged at Sweetwater Marina, with his family Donnie, Stanley, Mitch, Chase, Dustin, Derek, Elise, Becky, and Grace. They fished the Lake Leary area and brought in Redfish, Sheepshead, and Catfish. They had a great time. This was their 1st time to Sweetwater and we hope to see them again soon 😉👍.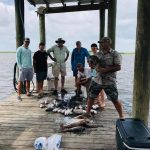 Want to know where the fish are or need someone to clean you fish? Ask for Tony.
WE HAVE FRESH LIVE SHRIMP!
We also have dead shrimp and plenty minnows too!!
Want to book a Room, Charter or Shed rental? Call Kelly 504-342-2368 Mon-Fri 9-5
Come stop in the bait shop and see what we have… We have NEW tackle in! We have MAPS for sale. The new Sweetwater Marina SHIRTS have arrived $25.00 each!! Don't forget we have; non-ethanol fuel, ice, snacks, and cold drinks.