Picture perfect day
Date: May 15, 2019
It was another picture perfect day today at Sweetwater Marina, the 3rd in a row in fact. The next few days should be equally as nice. You need to come on down to Delacroix and get in on the great fishing and enjoy the gorgeous weather!
Mr Eddie and friend launched at Sweetwater Marina early this morning and hit the mother load! They caught 40 Trout before 8 am and 2 beautiful Redfish and was back at the launch before 11 am sounds like a very successful trip 😉👍
Capt. Jack had his 3rd successful charter in a row with Mr. Al Jones, Eddie, Billy, and Ken. The fellas fished the Grand Lake area again and caught 25 Redfish and 3 Sheepshead. All the guys agree they have been bitten by the Delacroix fishing bug and will be back real soon to do some more great fishing with Capt. Jack.
David took a couple friends fishing today and caught 15 Redfish, 11 Trout, 2 Sheepshead, and 2 Drum.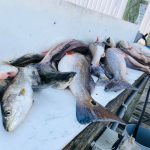 Rustin took Benjamin and Bobby fishing in Four Horse and caught 27 Trout and a Redfish.
Brett, "The Trout Bitch" brought in 6 nice Redfish, he fished the Grand Lake area.
Duke of The Duke Acadamy, caught 7 Redfish in the Grand Lake area this morning.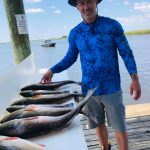 🦐 WE HAVE BEAUTIFUL LIVE SHRIMP! 🦐 We also have dead shrimp!!🦐 AND plenty minnows !!
*Come stop in the bait shop and see what we have… We have NEW tackle in! And MAPS for sale. Don't forget we have; non-ethanol fuel, ice, snacks and tell the the ladies HI 👋!
Call Kelly to book your room, Charter or Shed rental. Call Monday- Friday 9-5 504-342-2368.
*Ready to go fishing 🎣 ? So is Capt Jack!! Call to book your charter today!🚣‍♂️
*Want to know where the fish are or need someone to clean you fish?🔪 🔪 Ask for Tony. 🐡 🐠 🐟