Enjoying the beautiful day was easy to do….
Date: May 7, 2019
This is the beginnings of a beautiful day! Mr. Tommy and friends are having a good start to the day! Thank you for the delicious lunch!
Today was a nice day at Sweetwater Marina. Enjoying the beautiful day was easy to do with all the awesome customers who launch and lodge here.
Brent King brought in some beautiful Redfish before noon. Mr. King and his son Carley took little Jack fishing for his birthday 🎂🎣😉👍
Damian, Brian, and Marvin caught 15 Redfish in Oak River.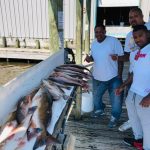 David, Nick, and Tommy went to Four Horse at Pipeline and caught 2 Sheepshead, 6 trout, and 8 Redfish. Awesome day fellas!👍
One of our favorite firefighters from Tennessee and his wife came to Sweetwater and shared some the great catches while they were here.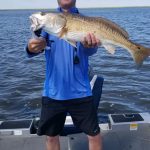 🦐 WE HAVE BEAUTIFUL LIVE SHRIMP! 🦐 We also have dead shrimp!!🦐 AND plenty minnows !!
*Come stop in the bait shop and see what we have… We have NEW tackle in! And MAPS for sale. Don't forget we have; non-ethanol fuel, ice, snacks and tell the the ladies HI 👋!
Call Kelly to book your room, Charter or Shed rental. Call Monday- Friday 9-5 504-342-2368.
*Ready to go fishing 🎣 ? So is Capt Jack!! Call to book your charter today!🚣‍♂️
*Want to know where the fish are or need someone to clean you fish?🔪 🔪 Ask for Tony. 🐡 🐠 🐟