Windy day, with success!
Date: November 18, 2020
Hey guys!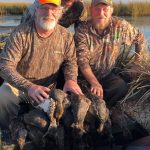 Today was a beautiful, yet slightly windy day, here in Delacroix. We got our card machines working again. Everyone that had cancellations due to the storm, will receive a refund tomorrow! & We do have live bait!
Today, we had a few customers come in with nice numbers of speckled trout & a few with some mixed ice chest of Specks, reds and bass! Overall, an amazing day and some happy customers at Sweetwater, even with the wind!
You guys don't miss out on the most wonderful season of the year- when the specks and reds never stop biting, the air has a slight chill and the you bundle up in your camo & watch the sun come up over your duck pond & get to roll in, with the victory from your fishing trip/hunting trip! There is no better feeling. & I know you all know what I am talking about. So, stop stalling, on a trip of a lifetime…right here in Delacroix, LA! Come see us here at Sweetwater Marina, Lodging and guide service! If you have any questions, call us at 504-342-2368!
If you are interested in a guided fishing trip, call us and book now with Captain Jack ! We can get you set up, on an amazing fishing trip! He would love to take you to catch beautiful Delacroix Speckled trout and redfish! The trips include everything, except lunch, for you and your party! You don't need to bring tackle, fishing rods or anything! Just show up & get ready to reel, reel, reel! No stress, no hassle, no fishing education necessary…Captain Jack will help bait the hooks, tell you where to cast, if need be, and make sure he puts you on the fish!
If you are interested in a guided hunting trip, give Capt. Chris a call at 504-427-4973. He will put you in the beautiful Delacroix marsh & put you on ducks! Now, whether you can shoot them or not, is on you! Joking guys! If you want to show us what you got, call 504-427-4973 to book your next guided hunting trip. Even if you miss every duck that flies your way, at least you were able to see a breathtaking Delacroix sunset, over the Louisiana marsh. Happy hunting!
Make sure to tag us in all of your hunting/fishing pictures here at Sweetwater Marina. Tag us or check in ! Feel free to leave a review! We love to see our customers having a grand time here at Sweetwater!
& remember, if you are too busy to hunt or fish, you are too busy! So, get on down to Sweetwater Marina, the marina that loves our customers!