Today was spectacular!!
Date: May 17, 2019
Today was spectacular!! The weather was perfect! The fish were biting, and everyone had a good day!!
Capt Jack had a Charter with Patrick, a friend of his dad (Mr. Buddy), and a couple friends and they had a great time catching up. The fellas caught 18 Redfish and 14 Trout in the Grand Lake area.
Brian, Whit, and Johnny caught 11 Redfish and 2 drum in Little Lake.
Dein, Terry, and Pat caught 15 Redfish in The Grave Yard.
Capt. Casey had a Sweetwater charter with Mr. Mike, Hank, and Keith. They caught their limit of Redfish in Grand Lake.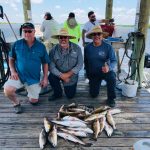 🦐 We have dead shrimp!!🦐 AND plenty minnows !!
*Come stop in the bait shop and see what we have… We have NEW tackle in! And MAPS for sale. Don't forget we have; non-ethanol fuel, ice, snacks and tell the the ladies HI 👋!
Call Kelly to book your room, Charter or Shed rental. Call Monday- Friday 9-5 504-342-2368.
*Ready to go fishing 🎣 ? So is Capt Jack!! Call to book your charter today!🚣‍♂️
*Want to know where the fish are or need someone to clean you fish? 🔪 🔪Ask for Tony. 🐡 🐠 🐟.