The start of a beautiful weekend to come!
Date: April 27, 2019
🦐 WE HAVE PLENTY BEAUTIFUL LIVE SHRIMP! 🦐 We also have plenty dead shrimp!!🦐 AND plenty minnows!!
Today was the start of a beautiful weekend to come. Hope you come join us at Sweetwater Marina.
Capt. Jack has a charter with Robert, Bob, Billy, and Tim. Capt. Jack fished scattered bays all through Delacroix, they threw back as many as they caught. They were going more for size than quantity. They caught 20 Redfish and 2 bass.
Steve & Terri went fishing today with their grandson Brailon they caught 2 trout and 4 Redfish. Brailon is one of our frequent Sweetwater fliers, and he enjoys spending time with his grandparents 😉👍
Surprisingly our favorite retired fishermen came back twice in one week to enjoy this beautiful day!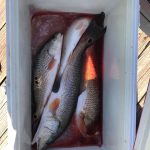 *Come stop in the bait shop and see what we have… We have NEW tackle in! And MAPS for sale. Don't forget we have; non-ethanol fuel, ice, snacks and tell the the ladies HI 👋!
Want to lodge at Sweetwater Marina Call Kelly to book your room 504-324-2368. Call Monday- Friday 9-5.
*Boat sheds are available, just a few left, call for details 504-342-2368. Call Monday- Friday 9-5.
*Ready to go fishing 🎣 ? So is Capt Jack!! Call to book your charter today!! 504-342-2368 🚣‍♂️ Call Monday- Friday 9-5.
*Want to know where the fish are or need someone to clean you fish? 🔪 🔪Ask for Tony. 🐡 🐠 🐟