The sky's are blue
Date: May 23, 2019
It's a gorgeous day at Sweetwater! The sky's are blue, the water is at a good level, the clarity is favorable….. the only thing missing is YOU!! 👈
Mr. Mark and friend had a very successful morning. He came in before 10 am with a 2 man limit of Redfish and a Bass. See y'all soon fellas. 😉👍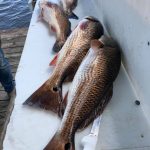 Capt Jack had a charter with Chip, Dale, Taff, Brent, Michael, and Patrick. This was their 6th annual trip with Capt. Jack. They caught 35 Redfish and can't wait for tomorrow's charter too.
Sweetwater's favorite retired MS. fella took his little bother from Cali. fishing today and did pretty good with 8 really nice Redfish.
Capt. Jack has an availability for a charter Saturday, May 25th call ASAP to book!!
🦐WE HAVE FRESH BEAUTIFUL LIVE SHRIMP! 🦐
🦐 We also have dead shrimp!!🦐 AND plenty minnows too!!
*Come stop in the bait shop and see what we have… We have NEW tackle in! And MAPS for sale. Don't forget we have; non-ethanol fuel, ice, snacks and tell the the ladies HI 👋!
Call Kelly to book your room, Charter or Shed rental. Call Monday- Friday 9-5 504-342-2368.
*Ready to go fishing 🎣 ? So is Capt Jack!! Call to book your charter today!🚣‍♂️
*Want to know where the fish are or need someone to clean you fish? 🔪 🔪Ask for Tony. 🐡 🐠 🐟.