REDFISHING!
Date: May 28, 2019
Want to go fishing for some Redfish? So does Capt. Jack, he has an opening for a charter this Thursday. Call ASAP to book 504-342-2368.
Capt Jack had a charter with a few gentlemen from Tyler, MS. Mr. Wayne, Conrad, Terry, and Josh caught 25 Redfish from the Spanish Lake area this morning and had a great time. The fellas are already look to come back in the fall for another Capt. Jack charter.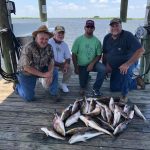 👕 We have new Sweetwater Marina shirts! 👚
🦐WE HAVE FRESH BEAUTIFUL LIVE SHRIMP! 🦐
🦐 We also have dead shrimp!!🦐 AND plenty minnows too!!
*Come stop in the bait shop and see what we have… We have NEW tackle in! And MAPS for sale. T-SHIRTS have arrived!! Don't forget we have; non-ethanol fuel, ice, snacks and tell the the ladies HI 👋!
Call Kelly to book your room, Charter or Shed rental. Call Monday- Friday 9-5 504-342-2368.
*Ready to go fishing 🎣 ? So is Capt Jack!! Call to book your charter today!🚣‍♂️
*Want to know where the fish are or need someone to clean you fish? 🔪 🔪Ask for Tony. 🐡 🐟 🐠