It's a 4 Charter day!
Date: May 9, 2019
Sweetwater Marina had 4 charters this morning and Capt. Jack came in before 11 am with Mr. Charlie, Kim, and Mark. They had 20 beautiful Redfish they caught in Lake Batola. This was the guys 3rd charter of the week and already looking forward to their next trip back to Delacroix. 😉👍 We enjoyed having you fellas chartering and lodging at Sweetwater Marina.
Capt Calvin has a charter with Mike and Jason, the guys brought in 15 Redfish, and bass from Shrimp Lagoon. The fellas are loving their annual business trip to NOLA!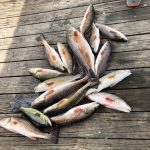 Dr. Paul Harsh and family, wife Juliette, daughter Alyx, and son Dylan enjoyed their charter with Capt. Wayne in Lake Campo. They caught 21 Redfish, 6 Drum and 2 Catfish. Alyx had the catch of the day with a 22 lb. Drum she released, after striking a pose.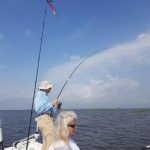 Capt Matt had a catch and release day with his charter today. The Cali boys had the time of their lives in NOLA.
Mr. Ryan, Graeme, George and Kale.
All of our Captains beat the bad weather we were forecasted to have, but haven't received yet………glad we didn't listen to that. They all had great catches today!
JUST IN!! Capt. Jack is open for a Charter Friday, May 10th. Call ASAP 504-342-2368
Just in!!! 1 Room Just became available for this weekend!! Call ASAP 504-342-2368
🦐 WE HAVE BEAUTIFUL LIVE SHRIMP! 🦐 We also have dead shrimp!!🦐 AND plenty minnows !!
*Come stop in the bait shop and see what we have… We have NEW tackle in! And MAPS for sale. Don't forget we have; non-ethanol fuel, ice, snacks and tell the the ladies HI 👋!
Call Kelly to book your room, Charter or Shed rental. Call Monday- Friday 9-5 504-342-2368.
*Ready to go fishing 🎣 ? So is Capt Jack!! Call to book your charter today!🚣‍♂️
*Want to know where the fish are or need someone to clean you fish? 🔪 🔪Ask for Tony. 🐡 🐠 🐟