Herman and Jim
Date: May 21, 2019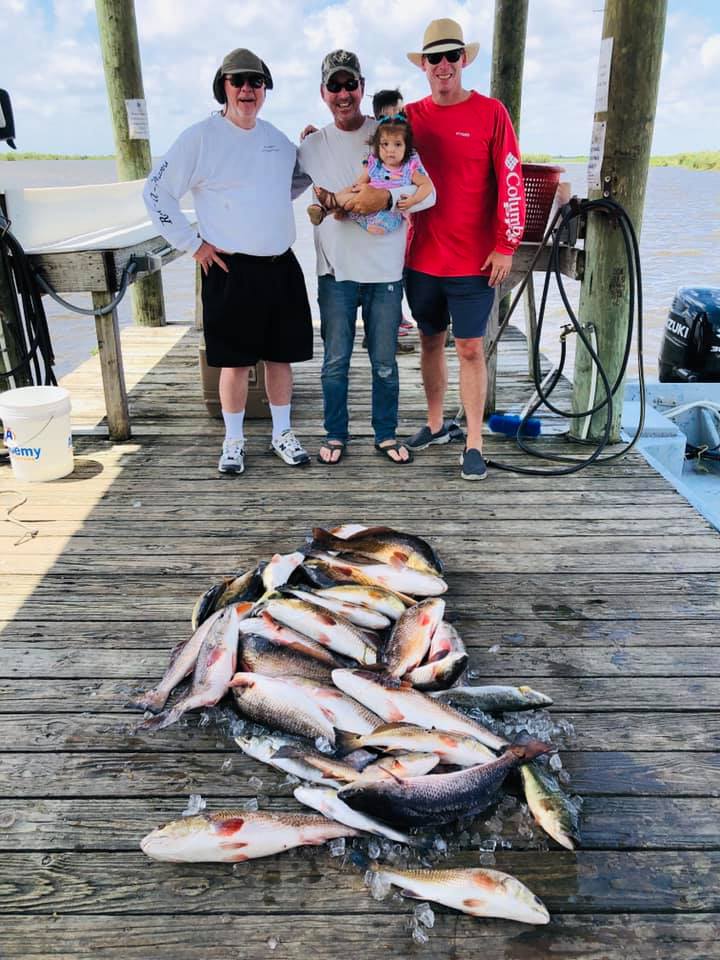 The weathers warming up, and staying clear. The water is good in all the right places. Not much to complain about this week. Just need the wind to lay down a little and it will be perfect!
Capt. Jack had a charter with his cousins Herman and Jim. Yesterday they caught 13 Redfish, 3 Trout and a Bass, and today the caught 14 Redfish and a Bass. All were from the Grand Lake area. Although the wind was kicking today, the guys had a great time catching up and catching a few really nice fish. 🎣
Greg and Randy caught 2 Flounder (unicorns) and a huge Drum, and many more beautiful fish. 🤣
My Columbus MS guys brought in 5 Redfish, a Bass, and a Trout. I can always count on them to catch some nice fish. 😉👍
I am happy to say 🦐WE HAVE FRESH BEAUTIFUL LIVE SHRIMP! 🦐
🦐 We also have dead shrimp!!🦐 AND plenty minnows too!!
*Come stop in the bait shop and see what we have… We have NEW tackle in! And MAPS for sale. Don't forget we have; non-ethanol fuel, ice, snacks and tell the the ladies HI 👋!
Call Kelly to book your room, Charter or Shed rental. Call Monday- Friday 9-5 504-342-2368.
*Ready to go fishing 🎣 ? So is Capt Jack!! Call to book your charter today!🚣‍♂️
*Want to know where the fish are or need someone to clean you fish?🔪 🔪 Ask for Tony. 🐡 🐠 🐟.