Hanging with the fellas
Date: May 1, 2019
🦐 WE HAVE BEAUTIFUL LIVE SHRIMP! 🦐 We also have dead shrimp!!🦐 AND plenty minnows !!
It was a beautiful day, but the wind was a bit challenging. A little patience and determination got the job done, and some fellas had really good catches.
Capt Jack went fishing today with his dad (Mr. Buddy), Freddy, and Dennis. The guys had a great time, bringing in 60 Trout. The fellas fished the Four corners, Shrimp Lagoon, and Shell Lake. Fishing out of the wind in all the bayou's of Delacroix.
Capt. Calvin had a charter with a few buddies today also and they caught 25 Redfish, 2 Drum, and 2 Trout. Great job fellas. 😉👍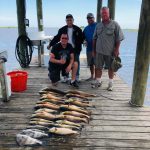 Have to give a shout out to the catch of the day, to the guy with the best named boat. The "Trout Bitch" brought in one whole Redfish today! 🎣🔪
*Come stop in the bait shop and see what we have… We have NEW tackle in! And MAPS for sale. Don't forget we have; non-ethanol fuel, ice, snacks and tell the the ladies HI 👋!
WE HAVE ONE ROOM LEFT FOR THIS WEEKEND!! Want to lodge at Sweetwater Marina Call Kelly to book your room 504-324-2368. Call Monday- Friday 9-5.
*Boat sheds are available, just a few left, call for details 504-342-2368. Call Monday- Friday 9-5.
*Ready to go fishing 🎣 ? So is Capt Jack!! Call to book your charter today!! 504-342-2368 🚣‍♂️ Call Monday- Friday 9-5.
*Want to know where the fish are or need someone to clean you fish?🔪 🔪 Ask for Tony. 🐡 🐠 🐟