Easter Holiday
Date: April 22, 2019
🦐 WE HAVE PLENTY BEAUTIFUL LIVE SHRIMP! 🦐 We also have plenty dead shrimp!!🦐 We also have plenty minnows!
Hope everyone had a great Easter Holiday weekend. Hope the Easter Bunny was good to you too. It was a beautiful weekend and a good day today also!
Saturday, Capt. Jack had a charter with Kevin B., Todd, Garth, and Kevin. They had to fish with low tide and full moon, which made it a little difficult in the beginning but with a little hard work and perseverance the caught 19 Redfish.
Today, Capt Jack had a charter with Mr. Wilkie and his son's, Ben, Collin and Brett. They started off with extremely low water this morning and then it came up after 11. They had tons of throw backs, but then brought in 20 Redfish and 3 beautiful flounder (the unicorn of the water)🦄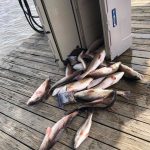 Mr. Mike and friends had a Sweetwater charter with Capt Matt. He was accompanied by Billy D, Will and Harry. They caught 18 Redfish, 4 Drum and 1 Sheepshead and are looking forward to another trip very soon.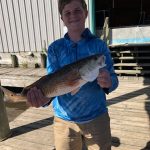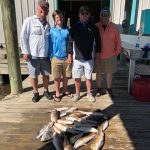 Mr Mark, one of our favorite frequent flyers at Sweetwater, brought in 5 Redfish for his morning boat ride, before 10 am. I still can't believe he drives all the way from Georgia for his bimonthly visit. See you in a couple weeks. 😉👍 🎣
🦐 WE HAVE PLENTY BEAUTIFUL LIVE SHRIMP! 🦐 We also have plenty dead shrimp!!🦐
*Come stop in the bait shop and see what we have… We have NEW tackle in! And MAPS for sale. Don't forget we have; non-ethanol fuel, ice, snacks and tell the the ladies HI 👋.
*WE HAVE A FEW ROOMS LEFT FOR THSI WEEKEND! Want to lodge at Sweetwater Marina Call Kelly to book your room 504-324-2368. Call Monday- Friday 9-5.
*Boat sheds are available, just a few left, call for details 504-342-2368. Call Monday- Friday 9-5.
*Ready to go fishing 🎣 ? So is Capt Jack!! Call to book your charter today!! 504-342-2368 🚣‍♂️ Call Monday- Friday 9-5.
*Want to know where the fish are or need someone to clean you fish?🔪 🔪 Ask for Tony. 🐡 🐠 🐟