Challenging Day
Date: April 3, 2019
Today was not an easy one, although today was a beautiful day. The wind was a total work out and challenge. Everyone enjoyed the sunny day and fought the wind, and unfortunately most of the people I spoke to today brought in little to nothing today. You would think the southeast wind would help 'bring'em" in, but that was not the case today.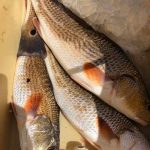 Capt. Jack, who can find the fish with out any problem, was having a challenging day today also.
Saturday, Capt. Wayne had a charter with Patricia Elliott and family. They caught their limit of Redfish and had a blast doing it. They enjoyed a night at Sweetwater Marina, after traveling from our next door neighbor of Columbus, MS.
Capt Wayne had a charter today with Travis and Joe , they limited out on Redfish by the pencil and Oak River. The guys are on an adventurous road trip around the U.S. From Colorado to Ohio then MS to LA now on to TX…. have fun fellas 😉👍.
🦐 WE HAVE A FRESH LOAD OF BEAUTIFUL LIVE SHRIMP!! 🦐
*Come stop in the bait shop and see what we have… We have new tackle in! And MAPS for sale. Don't forget we have; non-ethanol fuel, ice, snacks and tell the the ladies HI 👋.
Want to lodge at Sweetwater Marina Call Kelly to book your room 504-324-2368. Call Monday- Friday 9-5. WE ONLY HAVE *****A COUPLE ROOMS LEFT FOR THIS WEEKEND!!! *****
*Boat sheds are available, just a few left, call for details 504-342-2368. Call Monday- Friday 9-5.
*Ready to go fishing 🎣 ? So is Capt Jack!! Call to book your charter today!! 504-342-2368 🚣‍♂️ Call Monday- Friday 9-5.
*Want to know where the fish are or need someone to clean you fish?🔪 🔪 Ask for Tony. 🐡 🐠 🐟