And another one! ☀️
Date: April 12, 2019
We had a great day at 🎣 Sweetwater Marina! The weather was almost perfect, but the wind made it a tad bit difficult for those who use a trolling motor instead of an anchor. The hotspots are Little Lake and Lake John for Trout and Oak River by the pencil for the beautiful Redfish. Come on down and join on in on the fun. Tomorrow is going to be another beautiful day! ☀️
Mr. Ira ,Jay, Jason, Pearce, Cole, Autry, Lisa, Annabelle, and Misty, the wonderful people from GA. who lodged with us here at Sweetwater Marina, had a great time!! We enjoyed having them here and can't wait for them all to come back. The highlight of Mr. Ira being here is his awesome shirt selection for his fishing excursions! I got to experience my first Fishouflage shirt!!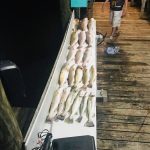 Micah, Zach, Ben, and Jay launching at Sweetwater Marina. With the live shrimp they got here they caught in 25 Redfish, and let just as many go.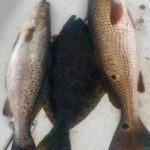 🦐 WE HAVE FRESH BEAUTIFUL LIVE SHRIMP!! 🦐 We also have plenty dead shrimp!!
*Come stop in the bait shop and see what we have… We have NEW tackle in! And MAPS for sale. Don't forget we have; non-ethanol fuel, ice, snacks and tell the the ladies HI 👋.
Want to lodge at Sweetwater Marina Call Kelly to book your room 504-324-2368. Call Monday- Friday 9-5.
*Boat sheds are available, just a few left, call for details 504-342-2368. Call Monday- Friday 9-5.
*Ready to go fishing 🎣 ? So is Capt Jack!! Call to book your charter today!! 504-342-2368 🚣‍♂️ Call Monday- Friday 9-5.
*Want to know where the fish are or need someone to clean you fish?🔪 🔪 Ask for Tony. 🐡 🐠 🐟