KICK'ON IT OFF RIGHT!
Date: March 22, 2019
We have had a great week here at Sweetwater Marina, and we kicked the weekend off right with another beautiful day.
Capt. Jack had a charter today with Mr. & Mrs. Doug Presley and their son who's birthday is today and their beautiful daughter. They had a great time and limited out on Redfish today in Oak River.
Leon and Kirk caught, 10 Redfish, 1 Bass and a hand full of Trout in the "local secret spot" Oak River. 😉👍
Mr. Mark, who is lodging with us at Sweetwater Marina, caught 14 Trout, 5 Redfish, and 1 Sheepshead in Lake John, and can't wait to be the first to launch tomorrow and head out for more fishing fun.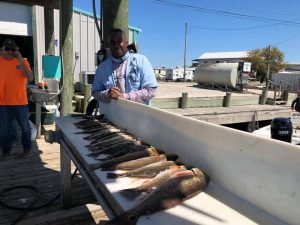 Jeremy, Chuck, & Marques brought in 11 Redfish 6 trout. Thank you for your service fellas. 
Toll, Mike, Cody and Ray caught their limit of Redfish in Oak River.
We had a couple anglers who caught 47 Trout & 2 Redfish in the "Grave Yard".
And the other had 6 Drum, 2 Catfish, 1 Sheepshead, and 33 Trout in Little Lake.
We have A FRESH LOAD OF beautiful live shrimp! 

*Come stop in the bait shop and see what we have… We have new tackle in! And MAPS for sale. Don't forget we have; non-ethanol fuel, ice, snacks and tell the the ladies HI 
.
Want to lodge at Sweetwater Marina Call Kelly to book your room we have, A COUPLE ROOMS LEFT FOR THIS WEEKEND . 504-324-2368. Call Monday- Friday 9-5.
*Boat sheds are available, just a few left, call for details 504-342-2368. Call Monday- Friday 9-5.
*Ready to go fishing 
 ? So is Capt Jack!! Call to book your charter today!! 504-342-2368 
 Call Monday- Friday 9-5.
*Want to know where the fish are or need someone to clean you fish? 
Ask for Tony.