👕 We have new Sweetwater Marina shirts! 👚
Date: May 24, 2019
The weather is warm, not a cloud in the sky! The wind is laying down and it's going to be a gorgeous extended weekend for Memorial Day!
Don't forget we will be selling bowls of jambalaya Saturday at Sweetwater Marina and selling tickets for Gracie girl for Queen of the Delacroix Boat Blessing!
Capt. Jack had a charter with Chip, Dale, Taff, Brent, Michael, and Patrick. The guys had a great day! They had a 2 day total of 60 beautiful Redfish. Their annual trip was a great success!
Capt. Casey had a charter for Sweetwater Marina with the Enterprise employees.
Erin, Kim, Rob, and Darion received a charter for a job well done! They caught an awesome limit of Redfish!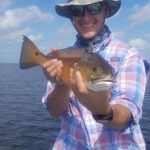 👕 We have new Sweetwater Marina shirts! 👚
🦐WE HAVE FRESH BEAUTIFUL LIVE SHRIMP! 🦐
🦐 We also have dead shrimp!!🦐 AND plenty minnows too!!
*Come stop in the bait shop and see what we have… We have NEW tackle in! And MAPS for sale. T-SHIRTS have arrived!! Don't forget we have; non-ethanol fuel, ice, snacks and tell the the ladies HI 👋!
Call Kelly to book your room, Charter or Shed rental. Call Monday- Friday 9-5 504-342-2368.
*Ready to go fishing 🎣 ? So is Capt Jack!! Call to book your charter today!🚣‍♂️
*Want to know where the fish are or need someone to clean you fish? 🔪 🔪Ask for Tony. 🐡 🐟 🐠